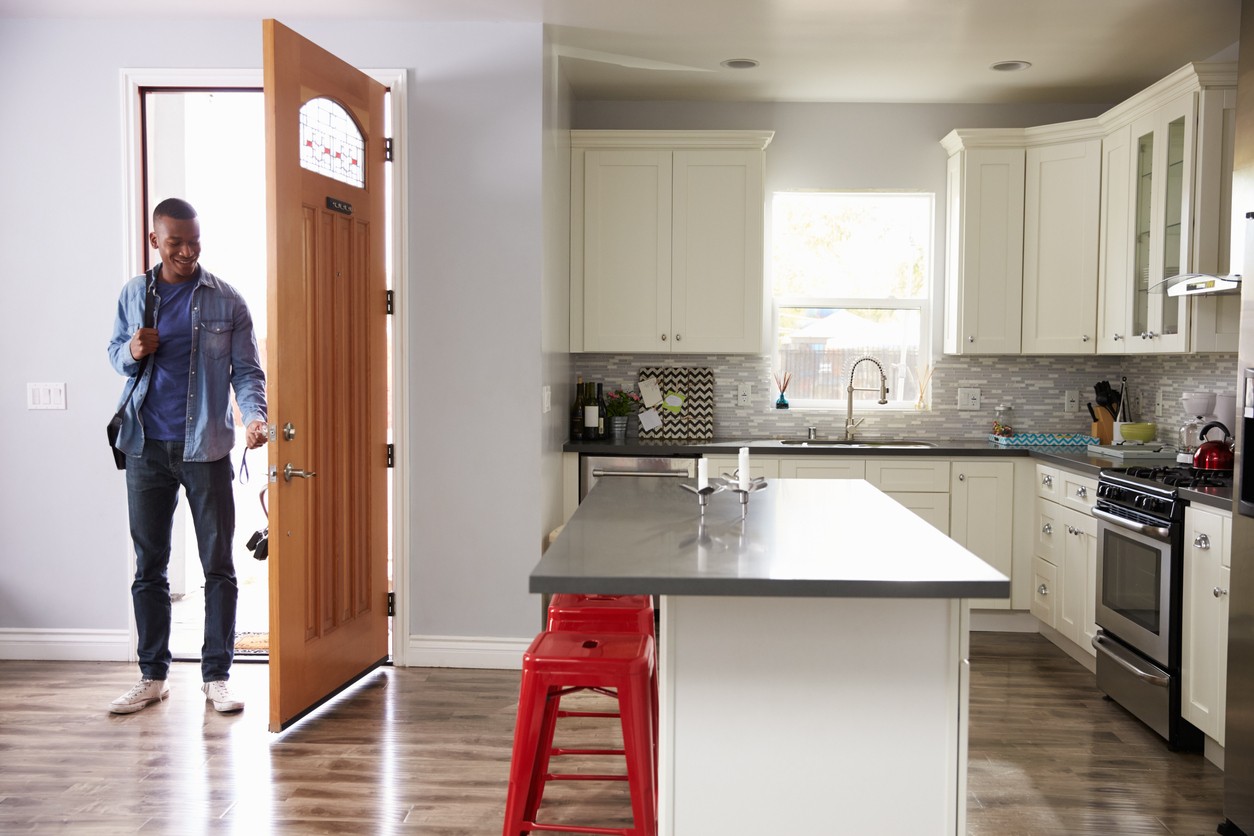 Unsure what locks to use for your rental property? We've got several recommendations to improve security and upgrade your technology.
Let's talk about locks! Landlords don't just need locks to secure their properties – locks also serve as an important method of access control for workers, preparing properties for new tenants, and much more. Today's locks can also come packed with technology for gathering information, getting alerts, and other useful capabilities.
If it's been a while since you've thought about the locks on your property other than periodic calls to a locksmith, it's probably time to look at upgrades. Our guide to locks for landlords will cover everything you need to know, along with some product recommendations. Let's get started.
Top Considerations for Rental Locks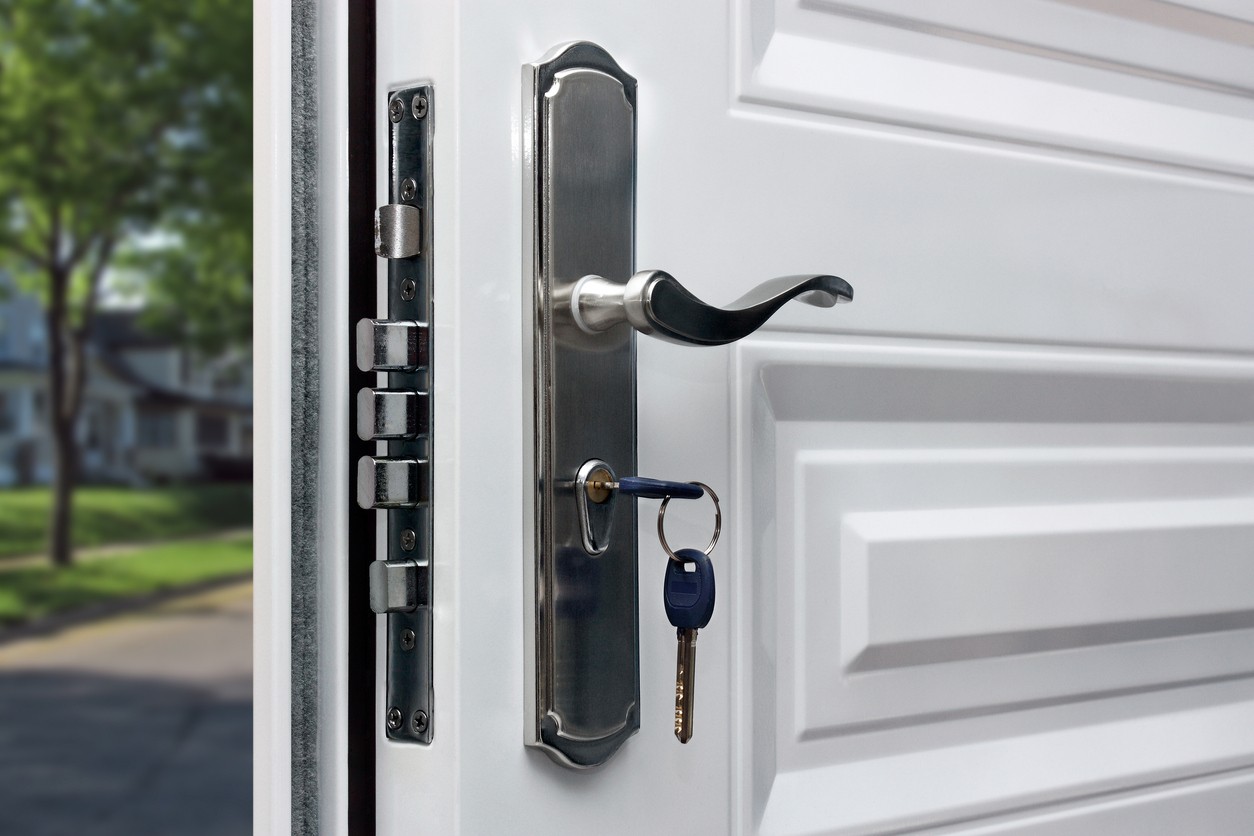 Rekeying and Permissions: Rental property locks need to be ready for easy rekeying. In other words, you don't want to replace the entire lock every time new tenants arrive on your property. However, you should still be able to update the lock so that keys previously used will no longer work on it. There are several ways to do this, which we'll discuss more below.
Overall Security: Door locks on a property should provide reliable security. That means they should not be easily broken. Some landlords choose to upgrade to deadbolts and similar options.
Master Keys: Landlords usually want a master key that will allow them to access door locks on any of their properties, which takes extra coordination and planning.
Access Control: Property owners may also want to avoid tenants trying to illegally sublet the property, inviting their friends to stay for long period of time, and so on. Locks that offer some level of deeper access control – possibly in combination with a security system – can be useful. At the same time, landlords may also want an easy way to allow technicians and service providers into the property between tenants, without needing to personally unlock the door.
Ease of Use: While locks can be high-tech, that can become a burden if landlords need to teach each new tenant how to use the lock and what rules they need to follow. Locks should be familiar enough that they don't require a lot of explanations.
Cost: It may be the right time to upgrade your locks, but the costs shouldn't be prohibitive, especially if you are changing multiple locks across multiple properties.
Protecting the Door Itself: If someone does try to force their way into the rental property, the lock can hold but the door may be damaged beyond repair. Some landlords may prefer to add more protection, like door braces or other kinds of reinforcement, especially if they've had trouble before.
What are Your Top Options?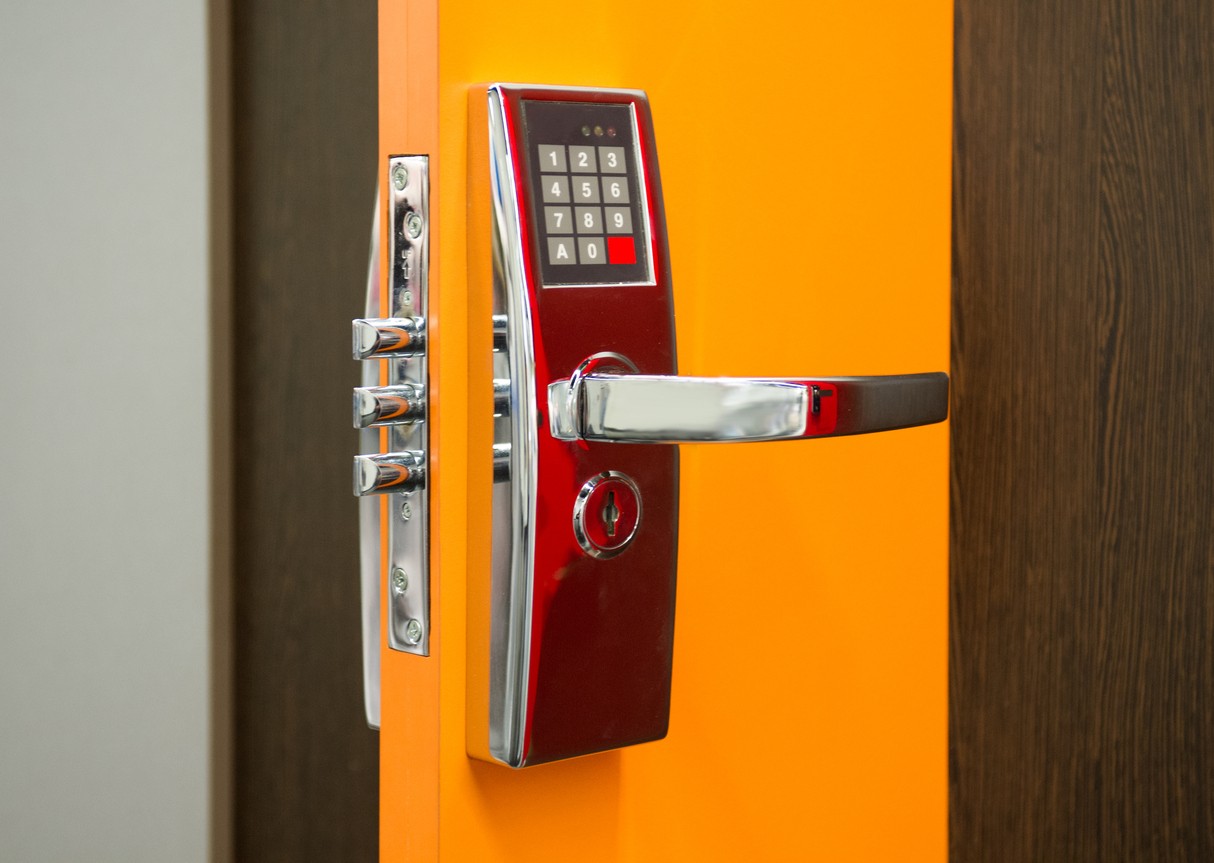 Knob Locks: These are the traditional locks that integrate lock cylinders with the knob used to open the door. While they can be sturdy and well-designed, they often don't offer a level of protection that landlords want and are more likely to be kicked in than other locks.
Deadbolt Locks: Deadbolts offer a heftier bar that slides across a door to lock it. They come in a variety of designs and can often be installed alongside knob locks for two forms of protection. For many years, this has been a preferred lock option for landlords.
Keypad Locks: These are typically deadbolt locks, but they add a keypad that can be programmed with codes to allow entry. This makes changing and updating codes for new tenants very easy, and allows for other kinds of customization (plus, tenants don't have to worry as much about losing keys).
Smart Locks: Smart locks typically connect to a nearby Wi-Fi network, which allows them to be monitored and controlled via a mobile app. They can be locked or unlocked from anywhere, and create logs of entries, plus they support different kinds of keyless entry. However, they often require an internet connection.
Padlocks: While you wouldn't use them on a front door, padlocks can be very useful in protecting other areas of a property, like sheds where equipment is kept.
Lever Handle Locks: These locks prevent the lever handle from being moved so the door cannot open. They aren't generally a good pick for primary access points, but are an important addition to lightweight doors, especially inside homes.
The Best Door Locks for Rental Properties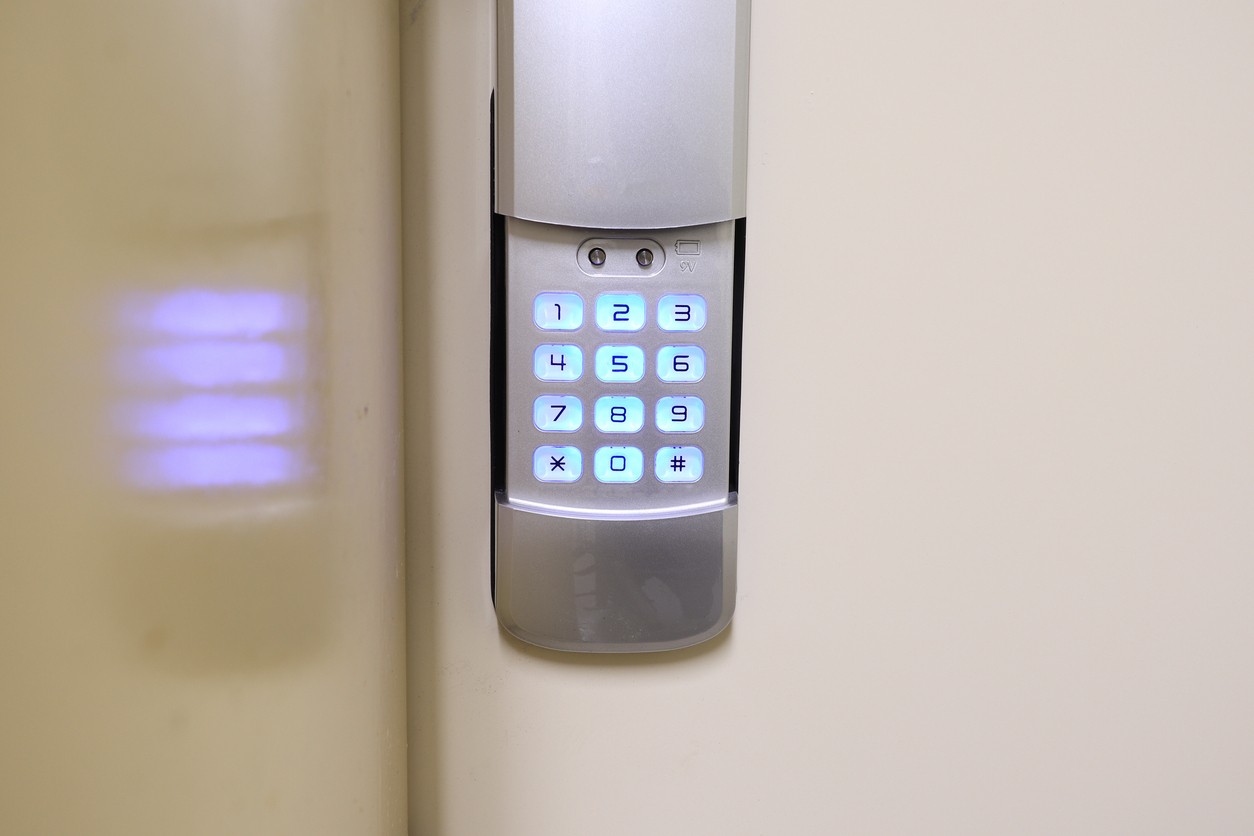 Looking for specific recommendations? Let's go over some landlord lock models that may work well for you:
Kwikset's locks are particularly good for landlords, as they are designed to be easily switched out for low costs when properties need to be rekeyed (plus a lifetime warranty). This version has a traditional design that fits most homes and is a great pick for landlords that don't really want any electronics involved in their locks, but still want a high-quality option that fits their needs.
Kwikset 916 Smartcode Touchscreen
This more advanced Kwikset lock includes many of the same rekeying benefits but with more advanced technology that includes both a keypad and compatibility with the smart home Z-wave protocol for remote connections. It's a jack-of-all-trades lock that gives you a little bit of everything while still providing a secure design with a one-inch deadbolt.
Those who want to add a keypad to their property locks but aren't interested in any additional features should look at this compact Schlage deadbolt. The keypad is durable, doesn't take up much room, and is made to fit on pre-drilled doors for easy installation.
Those interested in smart technology will appreciate the latest version of August's smart lock, designed to be invisible from the outside. This lock works with existing deadbolts, upgrading them with smart technology so you can monitor and control the lock from a smartphone app. That includes sharing permanent or temporary passes to others, enabling automatic locking and unlocking based on specific rules, and more. It also works with voice assistants like Alexa or Google Assistant. This is a great lock for Airbnbs and similar short-term rentals but is also a powerful upgrade for long-term rental properties.
This advanced deadbolt comes with its own built-in keypad, plus Bluetooth support, so it can connect to a compatible app without needing Wi-Fi connectivity. You will be able to create and issue eKeys for temporary access or change the unique code remotely. It features handy options like one-touch locking, a vacation mode, a lock out mode after a certain number of failed attempts, and more.
Samsung Handle with Fingerprint Scanner
This extra-advanced digital door lock is one of the best smart locks for apartments and similar situations if you want a premium lock that's filled with smart technology – including the ability to read fingerprints at a touch for biometric access. It also includes a touchscreen keypad for passcodes and Wi-Fi compatibility for full app control. Sensors can even tell if anyone is approaching the rental home and signal if the door is locked or not.
If you like the idea of fingerprint scanners to help protect your properties, but don't want anything too complicated, this Lockly electronic lock may be the perfect fit. It includes a basic fingerprint reader to open doors at a touch, but it's outward-facing design still looks like a traditional deadbolt. It also comes with wireless technology for easy app programming and control and has great battery life.
Smart locks can be expensive, but Wyze's smart device is one of the most affordable smart deadbolts around. Like August's option, this kit can upgrade an existing deadbolt with smart technology that gives you full app control, including lock histories, one-click locking, and the ability to create codes for access. It's another great pick for a vacation rental that needs remote access.
This deadbolt may look normal, but it has plenty of tech secrets, including the ability to unlock at a touch or with a keycard, as well as app compatibility, voice assistant support, and more. It's a great pick for those who want a minimalistic design without giving up any smart features.
Tips on Choosing the Best Locks for Your Property
A new lock pairs well with an upgraded security system. Consider adding other features like video doorbells at the same time. Tenants may appreciate the extra security, and you can combine both projects into one.
If you're really worried about security, you may want to look at this article from Consumer Reports on testing home door locks. Many locks fail the tests – they are either easy to drill into for determined burglars, or their strike plates are poorly designed with short screws that can be more easily broken with brute force. Always pay attention to design quality when picking the right model and look for secure signs like hardened cylinders (which resist drilling) and sturdy strike plates.
If you're upgrading to a smart lock for the first time, it's a good idea to do so while the property is vacant. That allows you to spend all necessary time learning the app, the smart lock's capabilities, and experimenting with things like access codes so you'll be prepared once a tenant is living there.
You may also want to check local building codes and city rules about locks. Some types of locks may be illegal in your area: Double-sided locks, for example, may be considered a fire hazard.
Sliding glass doors are common in Bend and other areas around Oregon. If you want to add more security to these sliding doors, you can install a secondary sliding lock or similar protection. The same is true of windows.
Making Safety and Rental Management Easier in Central Oregon
It's not always easy to manage the details with a full schedule. If you're interested in upgrades like new door locks or other kinds of property maintenance, contact Mt. Bachelor Property Management. Our services in the Central Oregon area can help you arrange important property care, list your properties, enable payment options, and help manage tenant transitions…among much more. If you're looking for a property management partner, we're happy to talk about what our property managers do and answer any questions you have.
Click to Chat with Us 24/7/365